Homes with all the mod cons !
Is it your dream to spend your holidays and weekends in your very own pied-à-terre by the sea ?
Our second home meet all your requirements in terms of quality, longevity, design, and comfort.
Our homes are delivered fully furnished and have all the features and mod-cons of an inviting, modern home (furniture, bedding, household appliances WI-FI, etc.).
You'll be surprised by their layout, the quality of the finishes and equipment.
All you have to do is choose the one that meets your needs among our extensive range of models !
Style & elegance
All that matters when you're on holiday is taking a break from the outside world, being in a bubble where you can just dream your time away and relax.
With their characterful materials and colours, our homes are just what you need to find your inner balance for a peaceful interlude.
Deuxième Adresse selects homes with a modular and innovative design just for you.
The materials used both inside and out are extremely understated, yet modern and sophisticated.
The homes are bright, elegant and unique, giving pride of place to textural effects and sharp lines so you may spend the holidays of your dreams in an exceptional setting.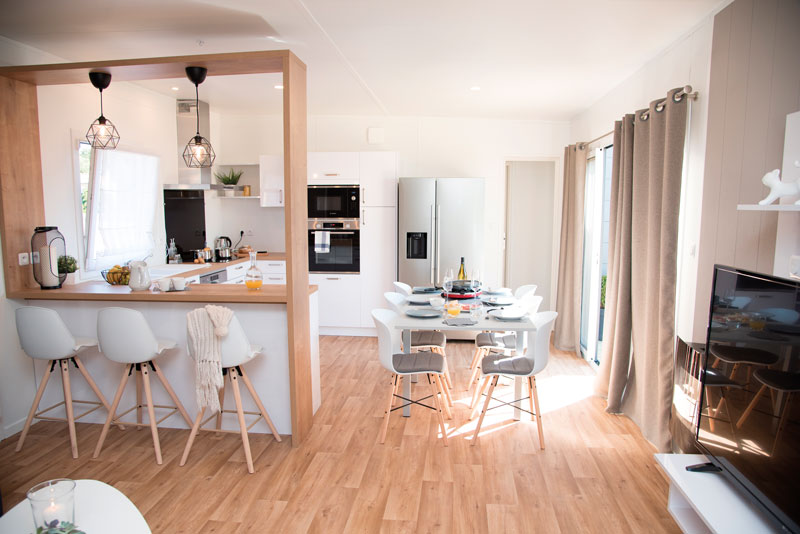 Brightness and comfort
Light is a structural element that emphasizes pure and graphic lines.
The wide openings offer a panoramic view of the exterior and let in plenty of light.
As space is always the name of the game, the challenge was to find imaginative and inspiring ways to accentuate the volume !
Generous volumes, equipment and storage space, all created for comfort.
Give in to the temptation and take a look at our extensive range of homes.
Suited to your needs !
Warm, sophisticated, welcoming, modern – our homes adapt to your profile !
A kitchen to inspire, a cosy lounge, a plush master suite, a fun area for children: our homes have been studied to meet your needs !
For large families with children or grandchildren or for holidays just for two, our models are configured to match your needs.
Treat yourself to a real outdoor home, where you can enjoy your free time to the full with family or friends.